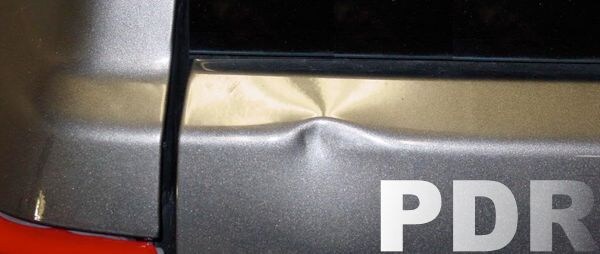 Here at Muzi Collision Center we often receive vehicles that have dings and dents in the hood or door panels that need to be removed. If the dings and dents are minor, we often utilize a technique called
Paintless Dent Repair
(PDR). Wondering what paintless dent repair is and how it works, read on.
WHAT IS PAINTLESS DENT REPAIR?
Well the name kind of speaks for itself.
Paintless Dent Repair
is basically a technique or series of techniques by which minor scuffs, hail damage, car door dings, and bumps are removed without replacing the panel or compromising the original factory finish.
HOW DOES PDR WORK?
Paintless Dent Repair is really more of an art form than a science, and the tradesmen who perform PDR Services are truly skilled technicians. The technicians utilize metal rods, picks, glue, and other suction devices to remove the dings and dents without chipping or damaging the paint in any way.
A fluorescent light is often utilized to help illuminate the location of the damage and carefully address the damage. PDR technicians are extremely precise and have to exercise great patience in the process.
But when it is completed, PDR can provide a major savings to the consumer because paint jobs can become fairly expensive.

DOES IT WORK ON MY VEHICLE?
The great thing about Paintless Dent repair is that it can be used on cars, trucks, SUVs, and performance vehicles and it can also be used on both steel and aluminum framed vehicles. So if you get a ding and that beautiful new 2015 Ford F-150 you are in luck.
Our
Needham Collision Center
performs Paintless Dent Removal services here on site every single week. You can
visit us
and make an appointment here:
Muzi Collision Center
Route 95 To Exit 19B
Needham, MA
https://www.muzicollisioncenter.com